Ponieważ w ostatnim roku o wiele za bardzo zaangażowałem się w sprawy innych ludzi, zapominając o sobie (choroba zawodowa) i przez to wpadłem w depresję, a poza tym trochę za bardzo właziłem sobie w drogę, stwierdziłem, że postąpię profesjonalnie i udam się do psychologa.
Najpierw przeżyłem niespodziankę w postaci obowiązku  uzyskania skierowania od lekarza pierwszego kontaktu i czasu oczekiwania na wizytę. Uzyskałem skierowanie bez trudu, poszedłem, zapisałem się na wizytę…
Psychologa nazwijmy magistrem C.
Pierwsze spotkanie z psychoterapeutą 
Chodziłem już kiedyś do tej przychodni, więc miałem tam założoną kartę – z podwójnymi danymi i informacją, że jestem trans. Dlatego psycholog nie był zdziwiony na mój widok, natomiast niemal natychmiast zapytał mnie, czy nie wolałbym raczej udać się do seksuologa, bo on się na sprawach trans nie zna i może człowiek z certyfikatem byłby lepszy. Jego pytanie było dość rozbudowane i dosyć długo omawialiśmy cały temat, a on cały czas wyrażał niepewność, czy jest odpowiednim człowiekiem, bo nie rozumie specyfiki problemów osób trans i tak dalej – widać, że człowiek spanikował.
(Moja wykładowczyni, seksuolożka, skomentowała, że bardzo dużo psychologów reaguje paniką na hasło "seks". To tak jakby ktoś jeszcze miał złudzenia).
Niestety włączył mi się tryb dość biernego obserwatora i nie od razu zareagowałem na sedno problemu. Wyjaśniłem mu zatem, że jest to niemożliwe, bo nie mam dostępu do psychologów-seksuologów na NFZ (jasne, że lepszy byłby ktoś w temacie, tylko gdzie ja go znajdę?), ale nie ustawiłem go jasno w "nie z tym przychodzę". Ustaliliśmy sobie, że się będzie uczył. No dobrze. Wydawał się całkiem pozytywnie nastawiony. Przejmował się tym, jak do mnie mówić, żeby mnie nie urazić i tłumaczył się, dlaczego w karcie wszędzie musi pisać żeńskie dane.
Oczywiście założył, jako pewnik absolutny, że jestem zdecydowany na pełną chirurgiczną korektę. Ponieważ to miał być terapeuta i mieliśmy nawiązać relację, a nie spotkać się, pogadać teoretycznie i pójść, uznałem, że wyedukuję go później.
Zgrzyty podczas wywiadu psychologicznego
Odbębniliśmy wstępne formalności typu sytuacja domowa, akademicka, zawodowa i tu zaczęły pojawiać się kolejne drobniutkie rysy. Mgr C. założył bowiem, że mam duże trudności w nawiązywaniu relacji i mało znajomych (no bo kto widział transa, który jest akceptowany przez swoje grupy i czuje się w nich pewnie?). Było to jednak dosłownie pół zdania, więc zwróciłem na to uwagę po fakcie. Druga rysa: informacja o spotkaniach grupy wsparcia dla osób trans. Mgr C. zaczął wtedy opowiadać mnie (w formie pytania), co się na takich spotkaniach dzieje – że wszyscy się żalą, że nikt ich nie rozumie, nie akceptuje, że tylko w swoim gronie czują się dobrze… Tu znów zareagowałem podczas odtwarzania wspomnienia, bo olśniło mnie, że on założył, że ja też się tak zachowuję. I trzecia rysa: wspomniał coś o tym, że mój wizerunek jest niespójny, a moje zachowania mylnie interpretowane przez otoczenie – co prawie na pewno wiązało się z płcią.
Dość poważnym problemem było też to, że mgr C. mówił przez większość czasu i nie dawał mi dojść do głosu (!), choćby po to, by go poprawić i powiedzieć, że nie, to nie tak.
Robiąc w pamięci podsumowanie spotkania, założyłem, że to da się skorygować i ustaliłem, że na następnej wizycie powiem psychologowi, że potrzebuję więcej czasu antenowego oraz przede wszystkim – że nie przyszedłem do niego z transseksualizmem.
Druga wizyta u psychoterapeuty  – mechanizmy obronne…?
Druga wizyta zaczęła się od komunikatu psychologa, że trochę poczytał na temat i on się zastanawia, jak ja mogę funkcjonować w takiej podwójnej roli, że z jednej strony czuję się mężczyzną, a z drugiej wszędzie występuję jako kobieta i że to musi mi robić straszny mętlik. Kiedy zacząłem mu tłumaczyć, że mętliku nie ma, że występuję jako mężczyzna – odwołał się do dokumentów. Powiedział też (na szczęście), że dla niego to jest problem, że z jednej strony widzi żeńskie dane, a z drugiej – ma mnie traktować jako mężczyznę, ponieważ jest formalistą i wzrokowcem. Wtedy ja odwołałem się do uczelni, opowiedziałem mu, jak tam funkcjonuję, że na listach wszystko pozmieniane, że część osób nie wie, że oceny wpisywane są zgodnie z numerem indeksu, a nie nazwiskiem…
I wówczas usłyszałem, że to są moje "mechanizmy obronne – i bardzo dobrze, że je mam!" – a w rzeczywistości ludzie, zwłaszcza wykładowcy, wcale nie postrzegają mnie jako mężczyznę i tylko "dają mi emocjonalne łapówki". Oraz że, jak sam mówiłem, jestem dla nich tylko anonimowym numerem w indeksie i im na mnie wcale nie zależy, po prostu chcą być mili. Koledzy może i się przestawili, ale wykładowcy? W życiu!
Zacząłem się wkurzać. Głównie dlatego, że temat bycia postrzeganym tak czy inaczej na uczelni przepracowywałem bardzo intensywnie. Na pierwszym semestrze, po dwóch miesiącach, powiedziałem koleżance, że boję się kolejnego semestru, bo wtedy będziemy mieli zajęcia w grupach, czyli listy obecności, i wszyscy dowiedzą się, jak mam na imię. Koleżanka odparła na to spokojnie, że przecież wszyscy wiedzą, jak mam na imię, a mnie zatkało, bo wyobraziłem sobie, że ludzie specjalnie znajdują moje nazwisko na kilometrowej liście przyjętych, która wisiała na parterze, sprawdzają oficjalne imię i jeszcze je między sobą rozpowszechniają. Po kilku godzinach głębokiego doła uprzytomniłem sobie, że przecież to jest nierealne i koleżanka chciała mi powiedzieć, że wszyscy wiedzą, że mam na imię Marcin. Kocham to doświadczenie, było wyjątkowo pouczające.
Błyskawicznie dokonałem operacji myślowej: gdybym te kilka lat temu usłyszał, z ust autorytetu, trzydziestu lat doświadczenia zawodowego itd., że mój z trudem wypracowywany wniosek, iż ludzie mnie akceptują i wcale nie widzą we mnie kobiety tylko dlatego, że gdzieś tak mam napisane, to nieprawda, że to mechanizmy obronne i że ludzie dają mi "łapówki emocjonalne", cała praca poszłaby na marne, ba! byłoby mi potem bardzo ciężko uwierzyć komukolwiek w jego akceptację.
(Obśmiałem zresztą potem z przyjaciółmi tę wypowiedź psychologa, nadziwiliśmy się jej, że koledzy mogą akceptować, a osoby z oficjalnych relacji nie i co, jeśli jedna z przyjaciółek założyłaby firmę i zatrudniła transa? Ponieważ byłby jej pracownikiem, traktowałaby go inaczej niż mnie? Ale i tak miałem moment niepewności).
Wyobraziłem sobie następnie, że do mgra C trafia taki całkiem zieloniutki trans albo ktoś z jego rodziny – i wtedy dopiero się wkurzyłem. Deterioryzacja murowana. Czyli – błąd w sztuce.
Jeszcze więcej zgrzytów 
Oznajmiłem psychologowi, że to wszystko nieprawda, że z numerami w indeksie źle zrozumiał, że z wykładowcami mam bardzo dobry kontakt, że wszędzie funkcjonuję jako mężczyzna i – tu mnie olśniło – to ON ma z tym problem, a nie moje otoczenie.
Na to mgr C. spanikował wyraźnie i podniesionym głosem zaczął opowiadać, że musi być tak, jak on mówi, bo jakby to wyglądało, gdyby każdy mógł tak bez żadnego potwierdzenia w rzeczywistości zmieniać swoją tożsamość?! Zapanowałby kompletny chaos! – i coś tam jeszcze w tym tonie.
A-ha.
W temacie trans to by było na tyle, bo go uciszyłem i oznajmiłem, że nie z tym problemem przyszedłem, mam to przepracowane, rzeczywistość wygląda zupełnie inaczej niż on sobie wyobraża – nawet opisałem jak – a chciałbym się zająć tym i owym.
W temacie terapii to też by było na tyle, bo odkąd przestałem się z psychologiem zgadzać, on przestał być miły i zaczął atakować mnie oraz Bogu ducha winnych klientów, których w życiu nie widziałem, a którzy go wyraźnie kiedyś sfrustrowali i przy tym jakoś mu się ze mną skojarzyli. A poza tym zmienił sobie cel terapii na wygodniejszy dla niego. I, tym się MUSZĘ podzielić, wygłosił taką oto złotą myśl: "Przychodzą do mnie pacjenci głupsi od mojego buta – tu wskazał na but – a ja muszę z nimi pracować! Kontakt nawiązywać!".
Tak więc temu panu już dziękujemy i zalecamy wizytę u superwizora lub dłuższy urlop, bo wyraźnie potrzebuje odpoczynku od swoich frustrujących klientów.
*
Uwagi dla psychologów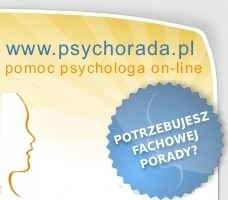 Na zakończenie apel do innych psychologów i studentów psychologii:
1. Jeśli przychodzi do Ciebie osoba transpłciowa, niekoniecznie jej problemem jest transseksualizm. Może mieć nawet głupią dysleksję i problemy w nauce. Nie odsyłaj jej do seksuologa, choćby w dobrej wierze, bo to wcielenie myślenia stereotypami w życie: "Widzę w tobie tylko twój transseksualizm, nie będę z tobą pracować".
2. Jeśli nawet nie jesteś seksuologiem lub psychologiem klinicznym, nadal możesz mieć kontakt z osobą transpłciową. Żyjemy tutaj. Mamy rodziców i jakieś relacje z nimi. Uczymy się, szukamy pracy, pracujemy. Zakładamy rodziny, wychowujemy dzieci. Mamy swoje zainteresowania i pasje. Miewamy inne problemy, z którymi chodzi się do psychologów. Każdego rodzaju. Każdy Twój klient – obojętne, gdzie pracujesz – może być  trans. Nie z każdym swoim problemem będzie mógł pójść do seksuologa. Dlatego warto, byś miał/a choćby podstawową wiedzę na ten temat.
3. Uczenie się od swoich klientów jest OK. Zakładanie, że wie się lepiej nie jest OK. Jeśli myślisz, że Twój transpłciowy klient ma trudności w nawiązywaniu relacji z innymi, bo jest trans i być może jest nieakceptowany – zapytaj o to, zanim wygłosisz twierdzenie na ten temat.
4. Uważaj, poruszając z osobą trans temat bycia odbieranym tak czy inaczej przez osoby z otoczenia. To tak, jakbyś osobie z zaburzeniami odżywiania mówił/a o jej wyglądzie. Łatwo wejść na minę. Unikaj twierdzeń wszystkowiedzących, pocieszania i każdego innego typu komunikatu, o którym mówiono Ci na studiach, że nie powinien być stosowany przez terapeutę.
5. Nie narzucaj osobie transpłciowej swojego światopoglądu związanego z tożsamościami, rolami płciowymi itd. Terapeucie w ogóle nie wolno tego robić, a ponadto osoba trans często i tak jest zbombardowana cudzymi światopoglądami.
6. Nie zakładaj, że to, co wiesz z mediów na temat Tru-Transseksualisty, odnosi się do Twojego klienta. Zapytaj. Jesteśmy, wbrew pozorom, bardzo zróżnicowaną grupą, a jednym z naszych głównych problemów bywa to, że świat narzuca nam dopasowywanie się do wzorca. Gdzie, jeśli nie w gabinecie terapeutycznym, mamy odkryć, że nie jesteśmy kolejnym ciastkiem z tej samej formy, lecz sobą?
7. Osoby transpłciowe z czasem przepracowują wiele ze swoich "klasycznych" problemów. Funkcjonowanie zgodnie ze swoją tożsamością pozwala nabrać dystansu i pewności siebie. Może też przyczynić się do uniezależnienia się od grupki innych osób trans i skierowania uwagi na budowanie relacji z cispłciowym światem. Dlatego nie należy zakładać, że wszystkie osoby trans mają to, to, to i jeszcze tamto – bardzo możliwe, że już przez to przeszły.
8. Ogólna uwaga: zaakceptuj swojego klienta, słuchaj go uważnie i daj mu przestrzeń na bycie sobą. Na bazie tego i kompetencji zawodowych z danego tematu zbudujesz wszystko inne.
PS. Jeśli chcesz wiedzieć, czym charakteryzuje się dobry terapeuta, pobierz ten bezpłatny e-book.